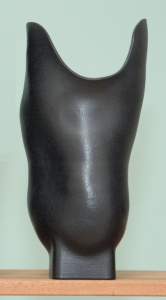 Advanced 3D printed trans tibia socket
Anatomically designed to optimise strength keeping weight very low.
ISO 10328 approved to 120 kg. Interface to pylon proof tested to 450 kg.
Shape designed by SimFit
Total surface bearing (TSB) socket with optimal load distribution on the skin to increase comfort.
Designed for the active user
Intended for sleeve or vacuum suspension.
4-hole pylon interface for a standard pyramid adapter.